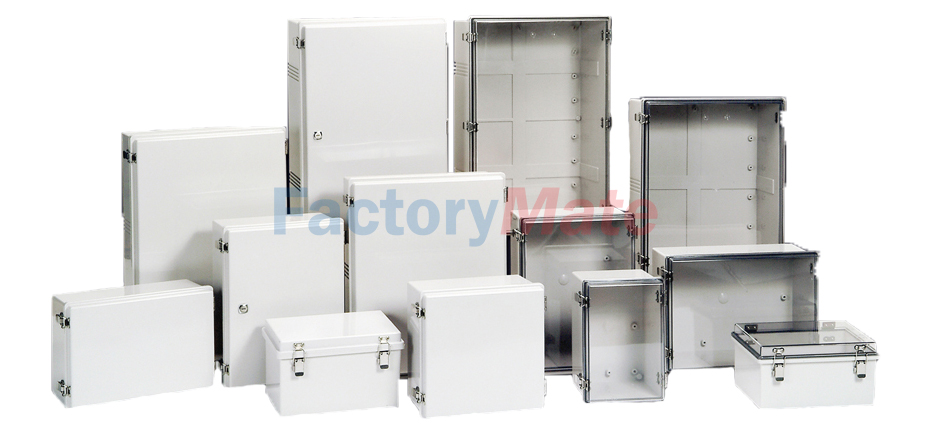 1. BOXCO's non-metallic enclosures are not easy to break even high frequency of opening and closing because of stainless steel hinge and draw latch.
2. It is wall mounting enclosure and makes perfect airtightness, preventing sink down when opening or closing by using suitable size of hinge and draw latch in accordance with increasing of enclosure size.
3. Our control boxes can be used in inferior or dangerous industrial field by using strong material and structure.

| | |
| --- | --- |
| Level of dustproof and waterproof | IP 66/67 |
| Impact test | IK 07/08 |
| Temperature range | ABS : - 40 ~ + 70 │ Polycarbonate(PC) : - 40 ~ + 110 |
| Flammability Rating | ABS : 94-HB │ Polycarbonate(PC) : 94-V-0, 5VA, HB |
200x300x150

7.87x11.81x5.91

BC-AGH-203015

BC-ATH-203015

BC-CGH-203015

BC-CTH-203015

2030 S

2030 P

200x300x180

7.87x11.81x7.09

BC-AGH-203018

BC-ATH-203018

BC-CGH-203018

BC-CTH-203018

2030 S

2030 P

225x275x120

8.86x10.83x4.72

BC-AGH-222712

BC-ATH-222712

BC-CGH-222712

BC-CTH-222712

2227 S

2227 P

250x350x150

9.84x13.78x5.91

BC-AGH-253515

BC-ATH-253515

BC-CGH-253515

BC-CTH-253515

2535 S

2535 P

275x225x120

10.83x8.86x4.72

BC-AGH-272212

BC-ATH-272212

BC-CGH-272212

BC-CTH-272212

2227 S

2227 P

300x200x150

11.81x7.87x5.91

BC-AGH-302015

BC-ATH-302015

BC-CGH-302015

BC-CTH-302015

2030 S

2030 P

300x200x180

11.81x7.87x7.09

BC-AGH-302018

BC-ATH-302018

BC-CGH-302018

BC-CTH-302018

2030 S

2030 P

300x400x150

11.81x15.75x5.91

BC-AGH-304015

BC-ATH-304015

BC-CGH-304015

BC-CTH-304015

3040 S

3040 P

300x400x180

11.81x15.75x7.09

BC-AGH-304018

BC-ATH-304018

BC-CGH-304018

BC-CTH-304018

3040 S

3040 P

350x250x150

13.78x9.84x5.91

BC-AGH-352515

BC-ATH-352515

BC-CGH-352515

BC-CTH-352515

2535 S

2535 P

350x450x160

13.78x17.72x6.30

BC-AGH-354516

BC-ATH-354516

BC-CGH-354516

BC-CTH-354616

3545 S

3545 P

350x450x200

13.78x17.72x7.87

BC-AGH-354520

BC-ATH-354520

BC-CGH-354520

BC-CTH-354520

3545 S

3545 P

400x300x150

15.75x11.81x5.91

BC-AGH-403015

BC-ATH-403015

BC-CGH-403015

BC-CTH-403015

3040 S

3040 P

400x300x180

15.75x11.81x7.09

BC-AGH-403018

BC-ATH-403018

BC-CGH-403018

BC-CTH-403018

3040 S

3040 P

400x500x200

15.75x19.69x7.87

BC-AGH-405020

BC-ATH-405020

BC-CGH-405020

BC-CTH-405020

4050 S

4050 P

400x600x230

15.75x23.62x9.06

BC-AGH-406023

BC-ATH-406023

BC-CGH-406023

BC-CTH-406023

4060 S

4060 P

450x350x160

17.72x13.78x6.30

BC-AGH-453516

BC-ATH-453516

BC-CGH-453516

BC-CTH-453516

3545 S

3545 P

450x350x200

17.72x13.78x7.87

BC-AGH-453520

BC-ATH-453520

BC-CGH-453520

BC-CTH-453520

3545 S

3545 P

500x400x200

19.69x15.75x7.87

BC-AGH-504020

BC-ATH-504020

BC-CGH-504020

BC-CTH-504020

4050 S

4050 P

600x400x230

23.62x15.75x9.06

BC-AGH-604023

BC-ATH-604023

BC-CGH-604023

BC-CTH-604023

4060 S

4060 P