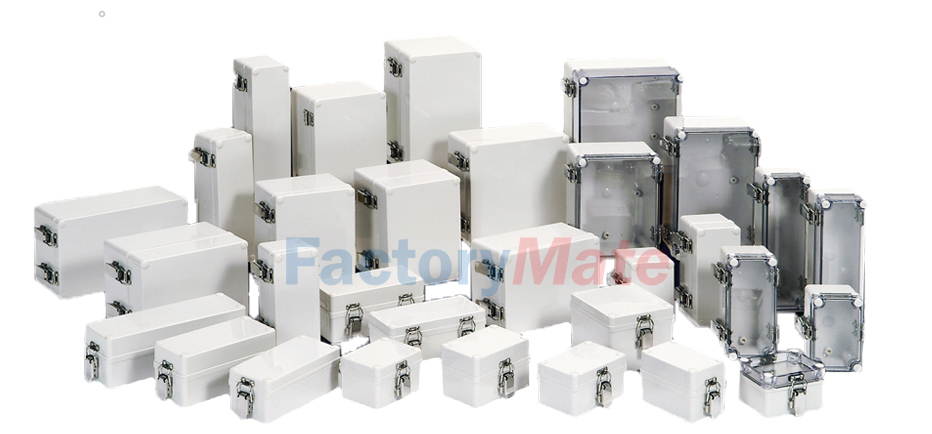 BOXCO's non-metallic enclosures are not easy to break even high frequency of opening and closing because of stainless steel hinge and
draw latch.
It is wall mounting enclosure and makes perfect airtightness, preventing sink down when opening or closing by using suitable size of hinge
and draw latch in accordance with increasing of enclosure size.
Our H series switch boxes have designed to easily and simply assemble hinge and latch by customers.

| | |
| --- | --- |
| Level of dustproof and waterproof | IP 66/67 |
| Impact test | IK 07/08 |
| Temperature range | ABS : - 40 ~ + 70 │ Polycarbonate(PC) : - 40 ~ + 110 |
| Flammability Rating | ABS : 94-HB │ Polycarbonate(PC) : 94-V-0, 5VA, HB |
Size(included cover)
Model
Mounting Plate
W X L X H
(mm)
W X L X H
(inch)
ABS
PC
Steel
1.6mm
Plastic
3~4.5mm
Grey cover
Transparent cover
Grey cover
Transparent cover
80x110x70
3.15x4.33x2.76
BC-AGH-081107
BC-ATH-081107
BC-CGH-081107
BC-CTH-081107
0811 S
0811 P
80x110x85
3.15x4.33x3.35
BC-AGH-081108
BC-ATH-081108
BC-CGH-081108
BC-CTH-081108
0811 S
0811 P
80x110x100
3.15x4.33x3.94
BC-AGH-081110
BC-ATH-081110
BC-CGH-081110
BC-CTH-081110
0811 S
0811 P
80x130x70
3.15x5.12x2.76
BC-AGH-081307
BC-ATH-081307
BC-CGH-081307
BC-CTH-081307
0813 S
0813 P
80x130x85
3.15x5.12x3.35
BC-AGH-081308
BC-ATH-081308
BC-CGH-081308
BC-CTH-081308
0813 S
0813 P
80x180x70
3.15x7.09x2.76
BC-AGH-081807
BC-ATH-081807
BC-CGH-081807
BC-CTH-081807
0818 S
0818 P
80x180x85
3.15x7.09x3.35
BC-AGH-081808
BC-ATH-081808
BC-CGH-081808
BC-CTH-081808
0818 S
0818 P
80x250x70
3.15x9.84x2.76
BC-AGH-082507
BC-ATH-082507
BC-CGH-082507
BC-CTH-082507
0825 S
0825 P
80x250x85
3.15x9.84x3.35
BC-AGH-082508
BC-ATH-082508
BC-CGH-082508
BC-CTH-082508
0825 S
0825 P
100x100x75
3.94x3.94x2.95
BC-AGH-101007
BC-ATH-101007
BC-CGH-101007
BC-CTH-101007
1010 S
1010 P
100x100x100
3.94x3.94x3.94
BC-AGH-101010
BC-ATH-101010
BC-CGH-101010
BC-CTH-101010
1010 S
1010 P
110x80x70
4.33x3.15x2.76
BC-AGH-110807
BC-ATH-110807
BC-CGH-110807
BC-CTH-110807
0811 S
0811 P
110x80x85
4.33x3.15x3.35
BC-AGH-110808
BC-ATH-110808
BC-CGH-110808
BC-CTH-110808
0811 S
0811 P
110x80x100
4.33x3.15x3.94
BC-AGH-110810
BC-ATH-110810
BC-CGH-110810
BC-CTH-110810
0811 S
0811 P
125x125x75
4.92x4.92x2.95
BC-AGH-121207
BC-ATH-121207
BC-CGH-121207
BC-CTH-121207
1212 S
1212 P
125x125x100
4.92x4.92x3.94
BC-AGH-121210
BC-ATH-121210
BC-CGH-121210
BC-CTH-121210
1212 S
1212 P
125x175x75
4.92x6.89x2.95
BC-AGH-121707
BC-ATH-121707
BC-CGH-121707
BC-CTH-121707
1217 S
1217 P
125x175x100
4.92x6.89x3.94
BC-AGH-121710
BC-ATH-121710
BC-CGH-121710
BC-CTH-121710
1217 S
1217 P
130x80x70
5.12x3.15x2.76
BC-AGH-130807
BC-ATH-130807
BC-CGH-130807
BC-CTH-130807
0813 S
0813 P
130x80x85
5.12x3.15x3.35
BC-AGH-130808
BC-ATH-130808
BC-CGH-130808
BC-CTH-130808
0813 S
0813 P
140x230x95
5.51x9.06x3.74
BC-AGH-142309
BC-ATH-142309
BC-CGH-142309
BC-CTH-142309
1423 S
1423 P
140x170x95
5.51x6.69x3.74
BC-AGH-141709
BC-ATH-141709
BC-CGH-141709
BC-CTH-141709
1417 S
1417 P
150x150x75
5.91x5.91x2.95
BC-AGH-151507
BC-ATH-151507
BC-CGH-151507
BC-CTH-151507
1515 S
1515 P
150x150x100
5.91x5.91x3.94
BC-AGH-151510
BC-ATH-151510
BC-CGH-151510
BC-CTH-151510
1515 S
1515 P
150x200x75
5.91x7.87x2.95
BC-AGH-152007
BC-ATH-152007
BC-CGH-152007
BC-CTH-152007
1520 S
15250 P
150x200x100
5.91x7.87x3.94
BC-AGH-152010
BC-ATH-152010
BC-CGH-152010
BC-CTH-152010
1520 S
1520 P
150x200x130
5.91x7.87x5.12
BC-AGH-152013
BC-ATH-152013
BC-CGH-152013
BC-CTH-152013
1520 S
1520 P
150x200x160
5.91x7.87x6.30
BC-AGH-152016
BC-ATH-152016
BC-CGH-152016
BC-CTH-152016
1520 S
1520 P
150x250x100
5.91x9.84x3.94
BC-AGH-152510
BC-ATH-152510
BC-CGH-152510
BC-CTH-152510
1525 S
1525 P
150x250x130
5.91x9.84x5.12
BC-AGH-152513
BC-ATH-152513
BC-CGH-152513
BC-CTH-152513
1525 S
1525 P
170x140x95
6.69x5.51x3.74
BC-AGH-171409
BC-ATH-171409
BC-CGH-171409
BC-CTH-171409
1417 S
1417 P
175x125x75
6.89x4.92x2.95
BC-AGH-171207
BC-ATH-171207
BC-CGH-171207
BC-CTH-171207
1217 S
1217 P
175x125x100
6.89x4.92x3.94
BC-AGH-171210
BC-ATH-171210
BC-CGH-171210
BC-CTH-171210
1217 S
1217 P
180x80x70
7.09x3.15x2.76
BC-AGH-180807
BC-ATH-180807
BC-CGH-180807
BC-CTH-180807
0818 S
0818 P
180x80x85
7.09x3.15x3.35
BC-AGH-081808
BC-ATH-081808
BC-CGH-081808
BC-CTH-081808
0818 S
0818 P
200x150x75
7.87x5.91x2.95
BC-AGH-201507
BC-ATH-201507
BC-CGH-201507
BC-CTH-201507
1520 S
1520 P
200x150x100
7.87x5.91x3.94
BC-AGH-201510
BC-ATH-201510
BC-CGH-201510
BC-CTH-201510
1520 S
1520 P
200x150x130
7.87x5.91x5.12
BC-AGH-201513
BC-ATH-201513
BC-CGH-201513
BC-CTH-201513
1520 S
1520 P
200x150x160
7.87x5.91x6.30
BC-AGH-201516
BC-ATH-201516
BC-CGH-201516
BC-CTH-201516
1520 S
1520 P
200x200x100
7.87x7.87x3.94
BC-AGH-202010
BC-ATH-202010
BC-CGH-202010
BC-CTH-202010
2020 S
2020 P
200x200x130
7.87x7.87x5.12
BC-AGH-202013
BC-ATH-202013
BC-CGH-202013
BC-CTH-202013
2020 S
2020 P
200x200x160
7.87x7.87x6.30
BC-AGH-202016
BC-ATH-202016
BC-CGH-202016
BC-CTH-202016
2020 S
2020 P
200x200x190
7.87x7.87x7.48
BC-AGH-202019
BC-ATH-202019
BC-CGH-202019
BC-CTH-202019
2020 S
2020 P
210x230x100
8.27x9.06x3.94
BC-AGH-212310
BC-ATH-212310
BC-CGH-212310
BC-CTH-212310
2123 S
230x140x95
9.06x5.51x3.74
BC-AGH-231409
BC-ATH-231409
BC-CGH-231409
BC-CTH-231409
1423 S
1423 P
230x210x100
9.06x8.27x3.94
BC-AGH-232110
BC-ATH-232110
BC-CGH-232110
BC-CTH-232110
2123 S
250x80x70
9.84x3.15x2.76
BC-AGH-250807
BC-ATH-250807
BC-CGH-250807
BC-CTH-250807
0825 S
0825 P
250x80x85
9.84x3.15x3.35
BC-AGH-250808
BC-ATH-250808
BC-CGH-250808
BC-CTH-250808
0825 S
0825 P
250x150x100
9.84x5.91x3.94
BC-AGH-251510
BC-ATH-251510
BC-CGH-251510
BC-CTH-251510
1525 S
1525 P
250x150x130
9.84x5.91x5.12
BC-AGH-251513
BC-ATH-251513
BC-CGH-251513
BC-CTH-251513
1525 S
1525 P