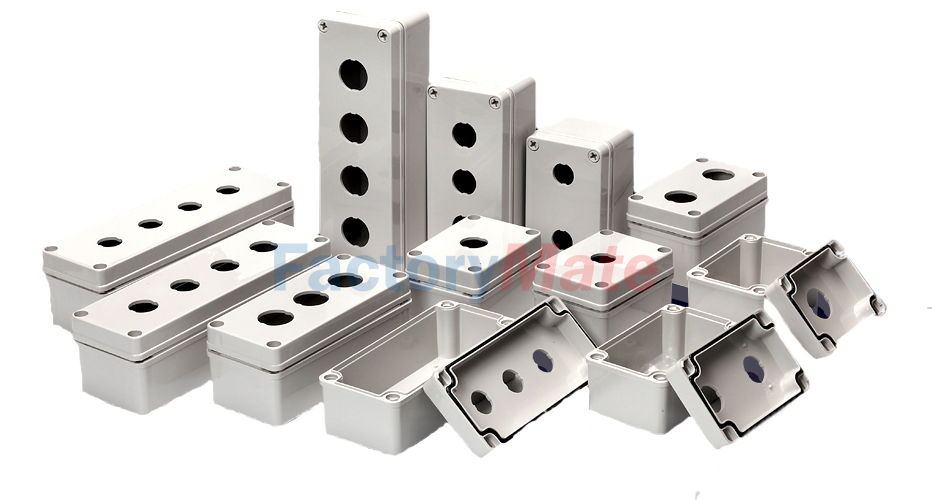 1. BOXCO's pushbutton enclosure is no need additional machining when you install 22, 25 or 30mm push button and switches.
2. Our pushbutton switch box is made from ABS and polycarbonate.
3. Switch boxes have 1,2 or 3 push button entries and it has 22mm molded knockouts in base for easy installation.


| | |
| --- | --- |
| Temperature range | ABS : - 40 ~ + 75 │ Polycarbonate(PC) : - 40 ~ + 110 |
| Flammability Rating | ABS : 94-HB │Polycarbonate(PC) : 94-V-0, 5VA, HB |
Size(included cover)
Model
∮
Hole
W X L X H(mm)
W X L X H(inch)
80x110x70
3.15x4.33x2.76
BC-AGS-081107-2201
22
1 HOLE
80x110x85
3.15x4.33x3.35
BC-AGS-081108-2201
22
1 HOLE
80x130x70
3.15x5.12x2.76
BC-AGS-081307-2202
22
2 HOLE
80x130x85
3.15x5.12x3.35
BC-AGS-081308-2202
22
2 HOLE
80x180x70
3.15x7.09x2.76
BC-AGS-081807-2203
22
3 HOLE
80x180x85
3.15x7.09x3.35
BC-AGS-081808-2203
22
3 HOLE
80x250x70
3.15x9.84x2.76
BC-AGS-082507-2204
22
4 HOLE
80x250x85
3.15x9.84x3.35
BC-AGS-082508-2204
22
4 HOLE
80x110x70
3.15x4.33x2.76
BC-AGS-081107-2501
25
1 HOLE
80x110x85
3.15x4.33x3.35
BC-AGS-081108-2501
25
1 HOLE
80x130x70
3.15x5.12x2.76
BC-AGS-081307-2502
25
2 HOLE
80x130x85
3.15x5.12x3.35
BC-AGS-081308-2502
25
2 HOLE
80x180x70
3.15x7.09x2.76
BC-AGS-081807-2503
25
3 HOLE
80x180x85
3.15x7.09x3.35
BC-AGS-081808-2503
25
3 HOLE
80x250x70
3.15x9.84x2.76
BC-AGS-082507-2504
25
4 HOLE
80x250x85
3.15x9.84x3.35
BC-AGS-082508-2504
25
4 HOLE
80x110x70
3.15x4.33x2.76
BC-AGS-081107-3001
30
1 HOLE
80x110x85
3.15x4.33x3.35
BC-AGS-081108-3001
30
1 HOLE
80x130x70
3.15x5.12x2.76
BC-AGS-081307-3002
30
2 HOLE
80x130x85
3.15x5.12x3.35
BC-AGS-081308-3002
30
2 HOLE
80x180x70
3.15x7.09x2.76
BC-AGS-081807-3003
30
3 HOLE
80x180x85
3.15x7.09x3.35
BC-AGS-081808-3003
30
3 HOLE
80x250x70
3.15x9.84x2.76
BC-AGS-082507-3004
30
4 HOLE
80x250x85
3.15x9.84x3.35
BC-AGS-082508-3004
30
4 HOLE