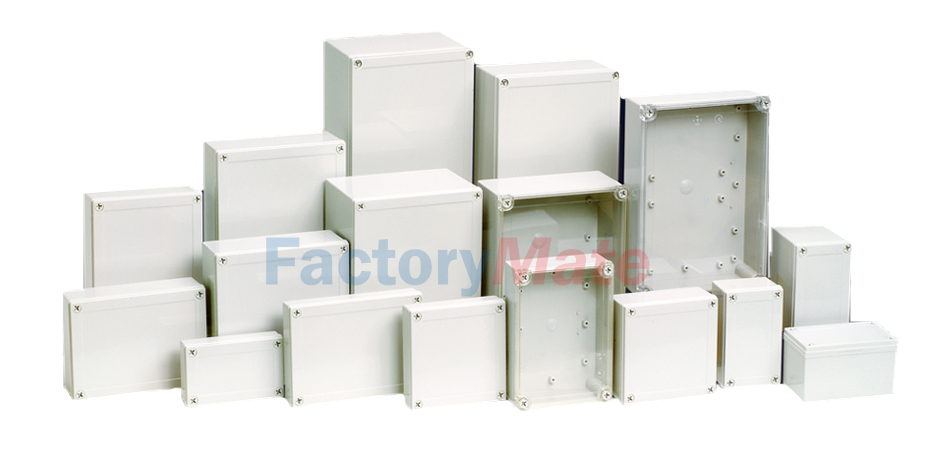 1. Considering attachment of membrane keypad, this M series enclosure is designed to make center surface of the cover slightly lower.
2. Our enclosure's screw thread of the base for connecting cover is molded so that it has sufficient strength and not broken when tightening screw.
3. Our non metallic enclosure's cover is low and base is high so that it has beautiful appearance.
| | |
| --- | --- |
| Level of dustproof and waterproof | IP 66/67 |
| Impact test | IK 07/08 |
| Temperature range | ABS : - 40 ~ + 70 │ Polycarbonate(PC) : - 40 ~ + 110 |
| Flammability Rating | ABS : 94-HB │ Polycarbonate(PC) : 94-V-0, 5VA, HB |
Size(included cover)
Model
Mounting Plate
W X L X H
(mm)
W X L X H
(inch)
ABS
PC
Steel
1.6mm
Plastic
3~4.5mm
Grey cover
Transparent cover
Grey cover
Transparent cover
80x130x35
3.15×5.12×1.38
BC-AGM-081303
BC-ATM-081303
BC-CGM-081303
BC-CTM-081303
0813 S
80×130×60
3.15×5.12×2.36
BC-AGM-081306
BC-ATM-081306
BC-CGM-081306
BC-CTM-081306
0813 S
80×130×40
3.15×5.12×1.58
BC-AGM-081304
BC-ATM-081304
BC-CTM-081305
0813 M
0813 P
80×130×50
3.15×5.12×1.97
BC-AGM-081305
BC-ATM-081305
BC-CGM-081305
0813 M
0813 P
80×130×75
3.15×5.12×2.95
BC-AGM-081307
BC-ATM-081307
BC-CGM-081307
BC-CTM-081307
0813 S
80×130×85
3.15×5.12×3.35
BC-AGM-081308
BC-ATM-081308
BC-CGM-081308
BC-CTM-081308
0813 S
80×130×100
3.15×5.12×3.94
BC-AGM-081310
BC-ATM-081310
BC-CGM-081310
BC-CTM-081310
0813 S
80×130×110
3.15×5.12×4.33
BC-AGM-081311
BC-ATM-081311
0813 M
0813 P
80×130×125
3.15×5.12×4.92
BC-AGM-081312
BC-ATM-081312
BC-CGM-081312
BC-CTM-081312
0813 S
100×100×35
3.94×3.94×1.38
BC-AGM-101003
BC-ATM-101003
BC-CGM-101003
BC-CTM-101003
100×100×50
3.94×3.94×1.97
BC-AGM-101005
BC-ATM-101005
BC-CGM-101005
BC-CTM-101005
100×100×60
3.94×3.94×2.36
BC-AGM-101006
BC-ATM-101006
BC-CGM-101006
BC-CTM-101006
100×100×75
3.94×3.94×2.95
BC-AGM-101007
BC-ATM-101007
BC-CGM-101007
BC-CTM-101007
130x130x35
5.12×5.12×1.38
BC-AGM-131303
BC-ATM-131303
BC-CGM-131303
BC-CTM-131303
1313 M

130×130×50
5.12×5.12×1.97
BC-AGM-131305
BC-ATM-131305
BC-CGM-131305
BC-CTM-131305
1313 M
130×130×60
5.12×5.12×2.36
BC-AGM-131306
BC-ATM-131306
BC-CGM-131306
BC-CTM-131306
1313 M
130×130×75
5.12×5.12×2.95
BC-AGM-131307
BC-ATM-131307
BC-CGM-131307
BC-CTM-131307
1313 M
130×130×85
5.12×5.12×3.35
BC-AGM-131308
BC-ATM-131308
1313 M
1217 P
130×130×100
5.12×5.12×3.94
BC-AGM-131310
BC-ATM-131310
1313 M
1217 P
130×130×110
5.12×5.12×4.33
BC-AGM-131311
BC-ATM-131311
1313 M
1217 P
130×130×125
5.12×5.12×4.92
BC-AGM-131312
BC-ATM-131312
1313 M
1217 P
130×180×35
5.12×7.09×1.38
BC-AGM-131803
BC-ATM-131803
BC-CGM-131803
BC-CTM-131803
1318 M
1217 P
130×180×50
5.12×7.09×1.97
BC-AGM-131805
BC-ATM-131805
BC-CGM-131805
BC-CTM-131805
1318 M
1217 P
130×180×60
5.12×7.09×2.36
BC-AGM-131806
BC-ATM-131806
BC-CGM-131806
BC-CTM-131806
1318 S
1318 P
130×180×75
5.12×7.09×2.95
BC-AGM-131807
BC-ATM-131807
BC-CGM-131807
BC-CTM-131807
1318 M
1217 P
130×130×85
5.12×5.12×3.35
BC-AGM-131308
BC-ATM-131308
BC-CGM-131810
BC-CTM-131810
1318
1217 P
130×180×100
5.12×7.09×3.94
BC-AGM-131810
BC-ATM-131810
BC-CGM-131810
BC-CTM-131810
1318 M
1217 P
130×180×110
5.12×7.09×4.33
BC-AGM-131811
BC-ATM-131811
1318 M
1217 P
130×180×125
5.12×7.09×4.92
BC-AGM-131812
BC-ATM-131812
1318 M
1217 P
130×180×135
5.12×7.09×5.32
BC-AGM-131813
BC-ATM-131813
1318 M
1217 P
130×180×150
5.12×7.09×5.91
BC-AGM-131815
BC-ATM-131815
1318 M
1217 P
150×180×60
5.91×7.09×2.36
BC-AGM-151806
BC-ATM-151806
BC-CGM-151806
BC-CTM-151806
1518 M
150×180×75
5.91×7.09×2.95
BC-AGM-151807
BC-ATM-151807
BC-CGM-151807
BC-CTM-151807
1518 M
180×180×40
7.09×7.09×1.58
BC-AGM-181804
BC-ATM-181804
1818 M
180×180×55
7.09×7.09×2.17
BC-AGM-181805
BC-ATM-181805
1818 M
180×180×60
7.09×7.09×2.36
BC-AGM-181806
BC-ATM-181806
BC-CGM-181806
BC-CTM-181806
1818 M
180×180×75
7.09×7.09×2.95
BC-AGM-181807
BC-ATM-181807
BC-CGM-181807
BC-CTM-181807
1818 M
180×180×85
7.09×7.09×3.35
BC-AGM-181808
BC-ATM-181808
BC-CGM-181808
BC-CTM-181808
1818 M
180×180×100
7.09×7.09×3.94
BC-AGM-181810
BC-ATM-181810
BC-CGM-181810
BC-CTM-181810
1818 M
180×180×110
7.09×7.09×4.33
BC-AGM-181811
BC-ATM-181811
1818 M
180×180×125
7.09×7.09×4.92
BC-AGM-181812
BC-ATM-181812
BC-CGM-181812
BC-CTM-181812
1818 M
180×180×135
7.09×7.09×5.32
BC-AGM-181813
BC-ATM-181813
1818 M
180×180×150
7.09×7.09×5.91
BC-AGM-181815
BC-ATM-181815
1818 M
180×180×160
7.09×7.09×6.30
BC-AGM-181816
BC-ATM-181816
1818 M
180×180×175
7.09×7.09×6.89
BC-AGM-181817
BC-ATM-181817
1818 M
180×255×50
7.09×10.04×1.97
BC-AGM-182505
BC-ATM-182505
1825 M
180×255×65
7.09×10.04×2.56
BC-AGM-182506
BC-ATM-182506
1825 M
180×255×75
7.09×10.04×2.95
BC-AGM-182507
BC-ATM-182507
BC-CGM-182507
BC-CTM-182507
1825 M
180×255×90
7.09×10.04×3.54
BC-AGM-182509
BC-ATM-182509
1825 M
180×255×100
7.09×10.04×3.94
BC-AGM-182510
BC-ATM-182510
BC-CGM-182510
BC-CTM-182510
1825 M
180×255×115
7.09×10.04×4.53
BC-AGM-182511
BC-ATM-182511
1825 M
180×255×125
7.09×10.04×4.92
BC-AGM-182512
BC-ATM-182512
BC-CGM-182512
BC-CTM-182512
1825 M
180×255×140
7.09×10.04×5.51
BC-AGM-182514
BC-ATM-182514
1825 M
180×255×150
7.09×10.04×5.91
BC-AGM-182515
BC-ATM-182515
1825 M
180×255×165
7.09×10.04×6.50
BC-AGM-182516
1825 M
180×255×175
7.09×10.04×6.89
BC-AGM-182517
1825 M