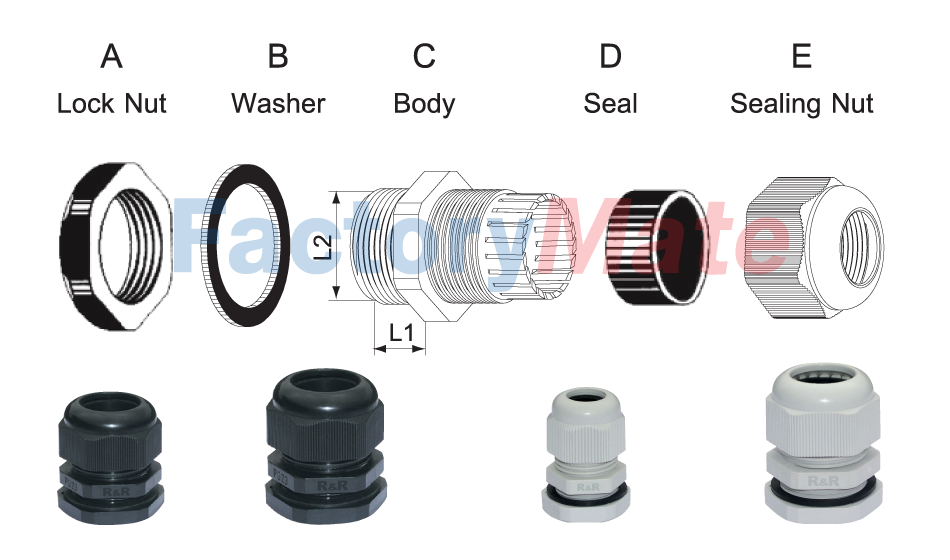 PLASTIC CABLE GLAND
Plastic fixed cable gland M type

Material: Parts A, C, E are made of UL approved nylon PA66, parts B and D are made of nitrile butadiene rubber (NBR).


Thread spec: Metric, PG, G, NPT.


Working temperature: -40 to 100 in static state, instantaneous heat resistance up to 120 ; -20 to 80 in dynamic state, instantaneous heat resistance up to 100 .


Characteristics: Special design of clamping die and rubber part, large range in clamping cable, ultra-strong stretching resistance, waterproof, dustproof, and high ability to resist salt, acid, alkali, alcohol, grease and general solvent.


Color: Black(RAL9005), light grey (RAL7035), silver (RAL7001) as well as special colors that can be designed at request.

How to use: Cable gland plastic waterproof cable glands are the fittings for cables.Lock the cables tightly by one side,the other end can be connected with the equipments or cabinet's female thread.
Metric thread plastic cable gland M type
ขนาดรัดสาย
รูเจาะสาย
เกลียวมิล
Thread Size
Item Code Black
Item Code Light Grey
Cable Range (mm.)
Thread O.D.(mm.)
Thread length(mm.)
Quantity Pack
M8
NRRM08D-0305BK
NRRM08D-0305LG
2.5-4.5
8.00
7.5
100
M10
NRRM10D-0306BK
NRRM10D-0306LG
3-6
10.00
8
100
M12
NRRM12D-0307BK
NRRM12D-0307LG
3-7
12.00
9
100
M16
NRRM16D-0409BK
NRRM16D-0409LG
4-9
16.00
9
100
M18
NRRM18D-0510BK
NRRM18D-0510LG
5-10
18.00
9
100
M20
NRRM20D-0612BK
NRRM20D-0612LG
6-12
20.00
10
100
M22
NRRM22D-0813BK
NRRM22D-0813LG
8-13
22.00
10
100
M25
NRRM25D-1318BK
NRRM25D-1318LG
13-18
25.00
10
100
M28
NRRM28D-1319BK
NRRM28D-1319LG
13-19
28.00
12
100
M32
NRRM32D-1621BK
NRRM32D-1621LG
16-21
32.00
12
50
M36
NRRM36D-1825BK
NRRM36D-1825LG
18-25
36.00
12
50
M40
NRRM40D-2228BK
NRRM40D-2228LG
22-28
40.00
15
20
M46
NRRM46D-2233BK
NRRM46D-2233LG
22-33
46.00
15
20
M50
NRRM50D-3238BK
NRRM50D-3238LG
32-38
50.00
18
20
M63
NRRM63D-3744BK
NRRM63D-3744LG
37-44
63.00
18
20