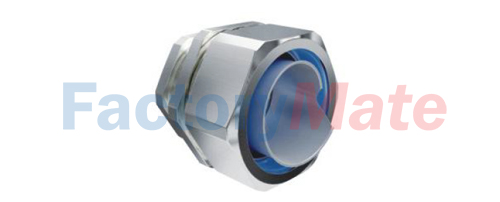 LNE-DPC Brass End Style Straight Connector
Brand: LEINUOER
Product material: Location A, C and F are made of brass, B, E are made of chemigums . D is made of iron sheet.
Specification of thread: Metric,G
Color:metallic(white)
Temperature: -40℃ ~ +100℃, instantaneously can be +120℃
Protection Classification: IP65
Property: nice looking, compact structure ,strength higher than normal metal conduit connector.Ferrule design make conduit
connection tightly, easy assembly,and strong pull resistance. Water resistant, dust resistant, inactive with salts, acid and alkali
resistance, alcohols,oils and greases as well as general solvent.
G style thread Standard ,others should be customized.

| | | | | | |
| --- | --- | --- | --- | --- | --- |
| NO. | Metric | Thead O.D | Thead Length | Connector Length | Packaging Unit |
| LNE-DPC-13-M20 | M20×1.5 | 20 | 10 | 18 | 100 |
| LNE-DPC-16-M20 | M20×1.5/M24×1.5 | 20/24 | 10 | 23 | 100 |
| LNE-DPC-20-M27 | M27×2.0/M30×2.0 | 27/30 | 12 | 22 | 50 |
| LNE-DPC-25-M33 | M33×2.0/M36×2.0 | 33/36 | 12 | 28 | 50 |
| LNE-DPC-32-M42 | M42×2.0/M48×2.0 | 42/48 | 14 | 30 | 25 |
| LNE-DPC-38-M48 | M48×2.0/M60×2.0 | 48/60 | 14 | 32 | 25 |
| LNE-DPC-51-M60 | M60×2.0/M70×2.0 | 60/70 | 15 | 34 | 10 |
| NO. | G System | Thead O.D | Thead Length | Connector Length | Packaging Unit |
| LNE-DPC-13-G3/8 | G3/8" | 16.5 | 8 | 18 | 100 |
| LNE-DPC-16-G1/2 | G1/2" | 21.3 | 10 | 23 | 100 |
| LNE-DPC-20-G3/4 | G3/4" | 26.6 | 12 | 22 | 50 |
| LNE-DPC-25-G1 | G1" | 33.4 | 12 | 28 | 50 |
| LNE-DPC-32-G1-1/4 | G1-1/4" | 42.1 | 14 | 30 | 25 |
| LNE-DPC-38-G1-1/2 | G1-1/2" | 47.8 | 14 | 32 | 25 |
| LNE-DPC-51-G2 | G2" | 59.6 | 15 | 34 | 10 |