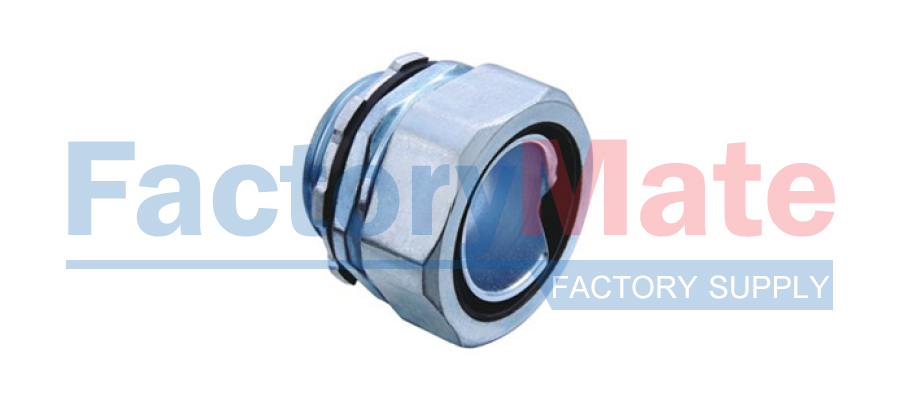 Product material : Location A,C and F are made of high-quality thickened zinc alloy,B,E are made of chemigums and D is made of iron sheet.
Specification of thread : Metric
Color : Metallic color (Silver white)
Temperature : -40 C - 100 C, instantaneously can be +120 C
Protection Classification : IP65
Property : Thickened zinc alloy or chromium plated; nice looking, compact structure and high strength. Flexible conduit Ferrule design make conduit connection tightly, easy assembly ,and strong pull resistance. Water resistant, dust resistant, inactive with salts, acid and alkali resistance, alcohols, oils and greases as well as general solvent.


Part No.
Metric
Thead O.D.
(mm.)D1
Thead Length
(mm)L1
Connector Length
(mm) L1+L2
LNE-DPJ-6-M14
M14X1.5
14
7
16
LNE-DPJ-8-M16
M16X1.5
16
8
16
LNE-DPJ-10-M16
M16X1.5
16
8
17
LNE-DPJ-13-M20
M20X1.5
20
10
18
LNE-DPJ-16-M24
M20X1.5
20
10
23
LNE-DPJ-20-M27
M27X2.0
27
12
22
LNE-DPJ-25-M33
M33X2.0
33
12
28
LNE-DPJ-32-M42
M42X2.0
42
14
30
LNE-DPJ-38-M48
M48X2.0
48
14
32
LNE-DPJ-51-M60
M60X2.0
60
15
34
LNE-DPJ-64-M76
M76X2.0
76
20
38
LNE-DPJ-75-M88
M88X2.0
88
22
46
LNE-DPJ-100-M114
M114X2.0
114
28
50
LNE-DPJ-125-M140
M140X2.0
140
29
-
LNE-DPJ-150-M164
M164X2.0
164
29
-

Part No.

PG System
Thead O.D.
(mm.)D1
Thead Length
(mm)L1
Connector Length
(mm) L1+L2
LNE-DPJ-6-PG7
PG7
12.5
8
16
LNE-DPJ-8-PG9
PG9
15.2
8
16
LNE-DPJ-10-PG9
PG9
15.2
8
17
LNE-DPJ-13-PG11
PG11
18.6
8
18
LNE-DPJ-16-PG13.5
PG13.5
20.4
11
23
LNE-DPJ-20-PG21
PG21
28.3
14
22
LNE-DPJ-25-PG29
PG29
37.0
15
28
LNE-DPJ-32-PG29
PG29
37.0
15
30
LNE-DPJ-38-PG36
PG36
47.0
16
32
LNE-DPJ-51-PG48
PG48
59.3
18
34
Part No.
G System
Thead O.D.
(mm.)D1
Thead Length
(mm)L1
Connector Length
(mm) L1+L2
LNE-DPJ-6-G1/4
G1/4"
13.2
8
16
LNE-DPJ-8-G3/8
G3/8"
16.5
8
16
LNE-DPJ-10-G3/8
G3/8"
16.5
8
17
LNE-DPJ-13-G3/8
G3/8"
16.5
8
18
LNE-DPJ-16-G1/2
G1/2"
21.3
11
23
LNE-DPJ-20-G3/4
G3/4"
26.6
14
22
LNE-DPJ-25-G1
G1"
33.4
15
28
LNE-DPJ-32-G1-1/4
G1-1/4"
42.1
15
30
LNE-DPJ-38-G1-1/2
G1-1/2"
47.8
16
32
LNE-DPJ-51-G2
G2"
59.6
18
34
LNE-DPJ-64-G2-1/2
G2-1/2"
75.1
22
38
LNE-DPJ-75-G3
G3"
87.8
22
46
LNE-DPJ-100-G4
G4"
113
24
50
LNE-DPJ-125-G5
G5"
-
-
-
LNE-DPJ-150-G6
G6"
-
-
-
Part No.
NPT System
Thead O.D.
(mm.)D1
Thead Length
(mm)L1
Connector Length
(mm) L1+L2
LNE-DPJ-6-NPT1/4
NPT1/4"
13.2
8
16
LNE-DPJ-8-NPT3/8
NPT3/8"
16.5
8
16
LNE-DPJ-10-NPT3/8
NPT3/8"
16.5
8
17
LNE-DPJ-13-NPT3/8
NPT3/8"
16.5
8
18
LNE-DPJ-16-NPT1/2
NPT1/2"
21.3
11
23
LNE-DPJ-20-NPT3/4
NPT3/4"
26.6
14
22
LNE-DPJ-25-NPT1
NPT1"
33.4
15
28
LNE-DPJ-32-NPT1-1/4
NPT1-1/4"
42.1
15
30
LNE-DPJ-38-NPT1-1/2
NPT1-1/2"
47.8
16
32
LNE-DPJ-51-NPT2
NPT2"
59.6
18
34
LNE-DPJ-64-NPT2-1/2
NPT2-1/2"
75.1
22
38
LNE-DPJ-75-NPT3
NPT3"
87.8
22
46
LNE-DPJ-100-NPT4
NPT4"
113
24
50
LNE-DPJ-125-NPT5
NPT5"
-
-
-
LNE-DPJ-150-NPT6
NPT6"
-
-
-